In the apartheid years the Nationalist government strictly controlled what was heard on the radio in South Africa. Music fans had to be inventive if they wanted to discover bands that were different from the usual fare that was played on State-controlled radio stations.
Innovation
One such person was Yunus Momoniat, who lived with his family in Lenasia, a suburb of Johannesburg. Yunus discovered the DJ, Leon Fourie who had a show on Radio Swazi. The show was called Innovation and it ran from nine until midnight. Fourie would take requests from his listeners, who like Yunus, were mostly school kids.
Neil Goedhals from Germiston High
Momoniat, who was in standard 8 at the time and who was a fan of progressive rock regularly sent in requests for Fourie to play the music of his favourite bands such as Pink Floyd and Soft Machine. The radio show attracted a large following amongst those who liked to listen to non-commercial music. The show connected people to one another. Momoniat noticed that he and another regular listener, "Neil Goedhals from Germiston High" shared a similar taste in music.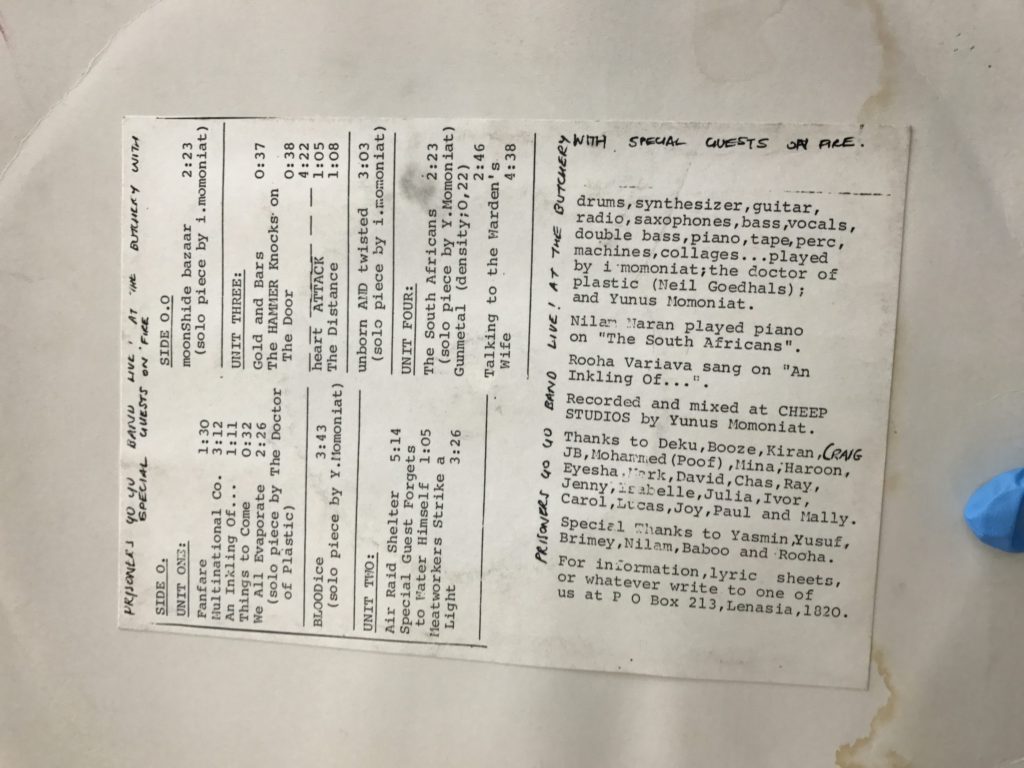 Santana
In 1976, Momoniat enrolled at Wits University. Still an avid music fan, he responded to a sign on a notice board advertising a Santana LP for sale. The seller of the LP turned out to be Neil Goedhals from Germiston High, except Neil was now also studying at Wits University! The two students realised that they had been listening to Fourie's radio show for many years. The pair immediately hit it off, their love of music and existentialism forming the basis of an enduring friendship.
CNA in Eloff Street
Momoniat and Goedhals would hang out together on campus every day, often dodging lectures and heading off to Neil's flat. Eventually they decided to start a band. Yunus's brother, Iqbal, who was still at school, joined the band and played drums. In 1981, the trio rented an L-shaped room in a building opposite the old CNA in Eloff Street. They set up a rudimentary recording studio in the space. The three musicians would meet there at night, start jamming and simply leave a tape running to capture their musical output.
Henry Cow
Yunus's main musical influences at this time were Can, Kraftwerk, Pere Ubu and Henry Cow. He would scour through the bargain bin at Hillbrow Records, where Neil sometimes worked, to find new music. He was also a big fan of King Crimson and he had great admiration for Robert Fripp.
Lenasia Drive In
The equipment in the the rehearsal space was basic and the trio used reel to reel machines to record their sessions. They were able to use these recordings to make a master reel, which could hold about 40 minutes of music. The three decided that they would like to release an album. To finance the project, they arranged for two Indian movies to be shown at the Lenasia Drive In. Takings from this endeavour raised around R500 – enough to make 250 copies of an LP.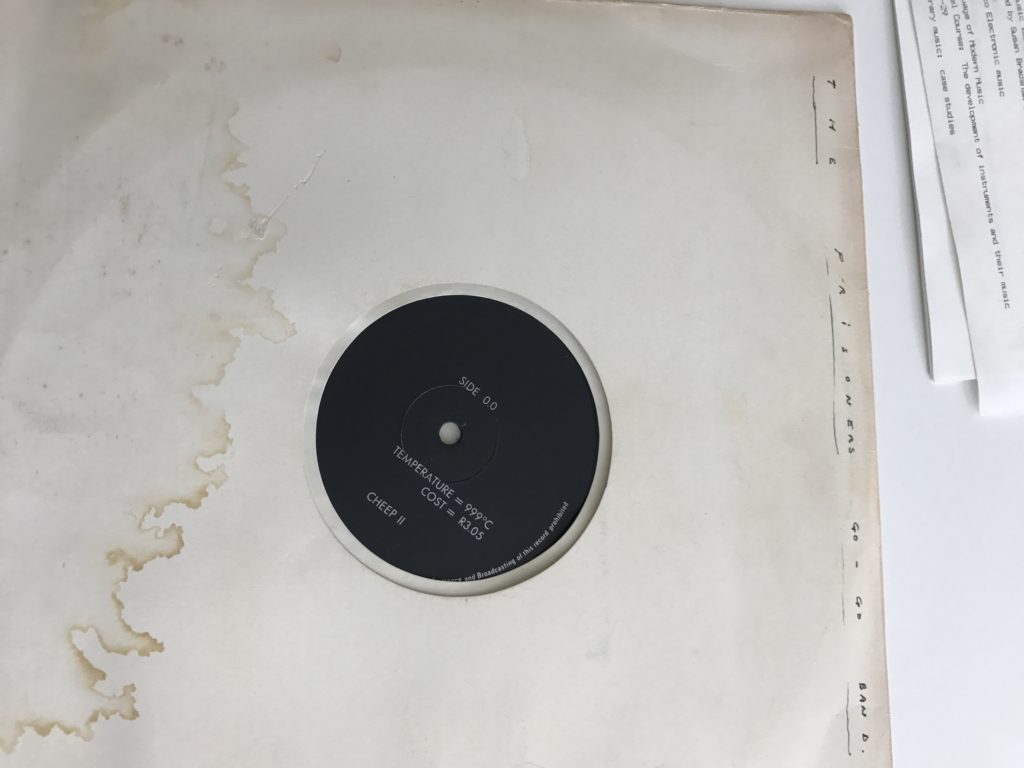 Live! At the Butchery With Special Guests on Fire
The three musicians each had their own ideas of what the name of the band should be, but they could never reach consensus. They democratically decided to string some of their ideas together and this is how the name of the album came about – Prisoners Go Go Band Live! At The Butchery With Special Guests On Fire.
Bostik
Once they had taken delivery of the vinyl LPs, Yunus, Neil and Iqbal worked through the night to insert the records into plain white covers. All the notes on the covers were written by hand. However disaster struck when they realised that the Bostik that had been used to seal the covers had leaked out onto the vinyl albums and had corroded many of the the LPs.
The band sold the LPs to friends for R6 each. However, because the music was not commercial, it was never played on the radio.
Not South African at all
Tensions had started to rise in the band and Yunus Momoniat decided to go to the UK, where he ended up living for 4 years. In a last ditch attempt, he took a copy of the Prisoners Go Go album to the company that did distribution for Henry Cow. But he was told that the company wasn't interested in the album because "The music did not sound South African at all."
Read more about Prisoners Go Go over here.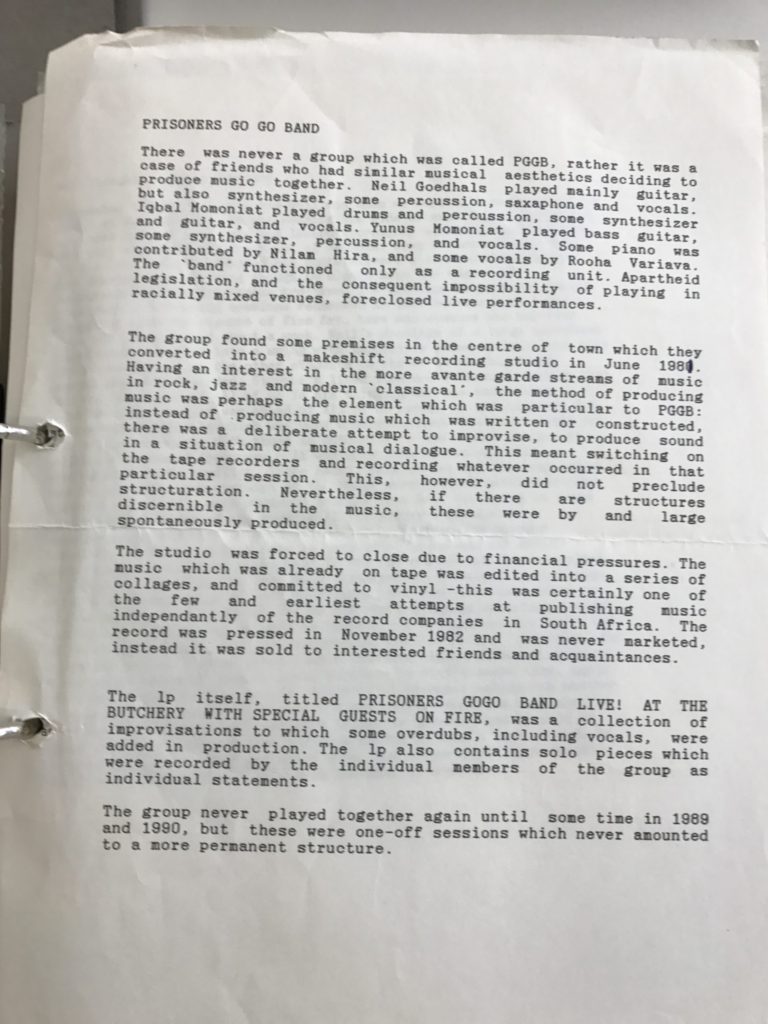 Koos
Yunus, Iqbal and Neil did not release any more music together. Neil went on to form the band Koos with the actor Marcel van Heerden. You can read about Koos here and here.