The new Medicine Boy album is filled with tension. Songs that are suffused with religious iconry juxtaposed with references to reptiles. Water and Oil. Crucifixes and Demons. Love and Death. Soft strings and crunching guitar riffs. There is also the softness of Lucy Kruger and the anguish of André Leo.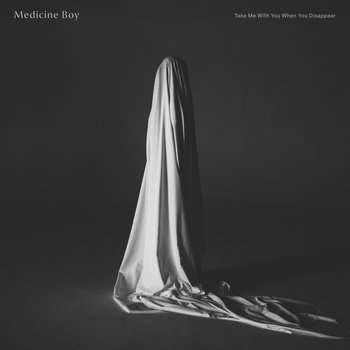 The band formed in 2014 and have produced three albums prior to Take Me With You When You Disappear, which will be the group's last record together.
What has been remarkable about this group is how their music reflects artists who have influenced them, yet their sound remains uniquely their own.
The album cover features a ghostly figure that is very similar to what was used in director David Lowery's movie A Ghost Story. In that film, a deceased musician returns as a ghost to his home only to have to watch on helplessly as his beloved wife's life continues without him.
The album kicks off with Wrecker – which is all fuzzy guitars and feedback and climaxes with Leo's screams of despair. This song is in stark contrast to the next track, Berlin Sky which is a complete change of pace and style. A relatively upbeat, plaintive love song characterised by intimate lyrics such as "Gimme just a little time with your little body." The song's heart-on-sleeve lyrics are reminiscent of Nick Cave's album, The Boatman's Call which was a paean to PJ Harvey.
The songs on which Kruger takes the lead vocals are melodic, minimalist and ethereal. Alina, is another standout track in which Kruger's plaintive vocals – a little bit Lana del Rey, a little bit Sharon van Etten circa Remind Me Tomorrow, leave the listener wanting to know more about the mysterious Alina.
The last track, Venom Song, is dreamy with the duo's voices complementing each other perfectly on this song about regret. Background strings repeat an endless riff reminiscent of Suicide's Dream baby Dream. The song meanders to a climax and then the voices fade and all that is left are silence and regret that this band is no more.
This is a gorgeous, if somewhat disturbing album. It is a demanding listen, there is pain here but there is also pleasure. Tension engenders great art and the tension that wracked Medicine Boy and perhaps lead to their break up has produced an outstanding album.
Stream the album on iTunes and Spotify or buy it here.